Food drive organized by Archbishop Elder Council – Knights of Columbus to coincide with the resumption of public masses at St. Gertrude on the Weekend of May 30/31!
The Knights are partnering with Catholic Charities of Southwest Ohio (CCSWO) and their 'Food For All' initiative (click here for more information).
CCSWO sets up temporary food pantries at 5 locations each month in the rural eastern counties of the archdiocese to help meet the needs of our neighbors who don't have the luxury of full service grocery stores within a short drive of their homes.
The Covid-19 situation has exposed a critical need for these food pantries, yet, at a time when many have been forced onto life's margins thru loss of employment or illness, the food supply is more tenuous than ever. As an indication of this, the Freestore Foodbank relates that 3 of every 4 people participating in their emergency food box distribution events had never before faced food insecurity until the Covid crisis
How Can You Help?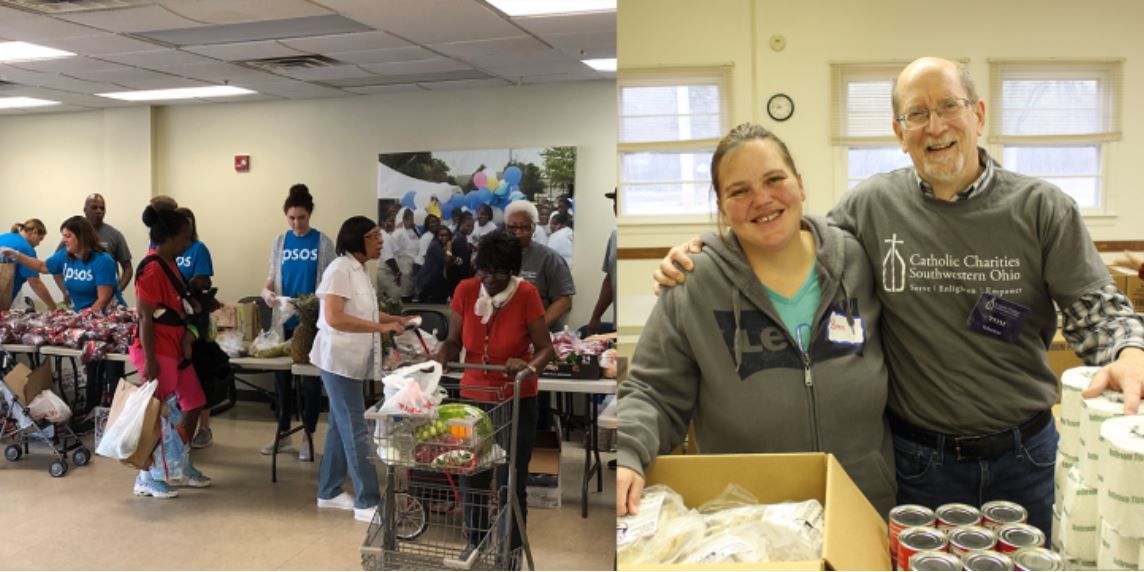 Please consider dropping off non-perishable food items – Catholic Charities suggests the following items are needed the most at the present time:
Protein Meals of any kind – canned meat or fish….chicken, tuna, beef stew, ravioli
Breakfast items – bags or boxes of ready-to-eat cereal
Shelf stable juice
Collection Dates and Times
The Knights will be collecting outside the church before and after each of the six Masses scheduled for Saturday, May 30 and Sunday, May 31:
Saturday, May 30 – 4:30 PM
Sunday, May 31 – 8AM | 10AM | 12N |4PM | 6PM 
If you aren't attending mass that weekend but would like to assist, you can drop off food anytime on Sunday between 7:30AM and 7:30PM. There will be a table out for donations and Knights will be along to put your donated food away.
It will be a blessing to be able to return to St. Gertrude for Mass after being away for 10 long weeks. The Knights thank the generous parishioners of St. Gertrude in advance for paying this blessing forward by helping those in need during this crisis.
For questions or to volunteer to help collect food on May 30/31 – or to deliver food to the pantries on June 11 (in Blanchester) or June 12 (in Bethel), please contact Tom Hahn at 513-702-9354 or tjhahncincy@gmail.com.